ARTober is a full-month celebration of the Arts in Santa Clarita. Fall for the Arts with Free Events and Programs. Events from ARTober 2018 are listed below and check back for ARTober 2019 announcements and events.
In celebration of October being National Arts and Humanities Month, the City of Santa Clarita hosts ARTober every year, offering free arts and humanities festivities throughout the month of October in the City of Santa Clarita.
ARTober QUIZZES
– One quiz released each week for four weeks
Four prize-winning quizzes were released on the first four Mondays of ARTober 2018 on the Santa Clarita Arts website at SantaClaritaArts.com. Quiz participants were automatically entered in a sweepstakes to win a $25 gift card. The first quiz "Opportunity ARTober" encouraged you to explore resources the website has to offer. The second quiz was based on personality questions to determine "Which California Art Bear Are You?" The third quiz was an "Image Reveal Test," asking you to match the correct title to a cropped image of a public art piece in Santa Clarita to reveal the full image. The final quiz revealed your "Perfect Art Day" outing in Santa Clarita.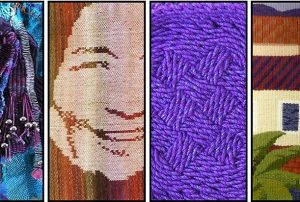 "The Richness and Diversity of Contemporary Weaving"
– Artist reception Wednesday, October 3, 6pm-8pm
Old Town Newhall Library
24500 Main Street, Newhall, CA 91321
Light appetizers and live music were enjoyed by all while meeting the artists at this new exhibit, presenting works for the Southern California Handweavers' Guild. Weaving has been practiced since early times for clothing, utilitarian and decorative purposes. The wall hangings in this exhibit, woven entirely by members of the Southern California Handweavers' Guild, are our modern take on this ancient skill. From scarves to jackets, rugs to towels and wall decor to baskets, the ancient tradition of weaving has its place in the twenty-first century. This curated show of member artists range from new talented weavers to those whose work has been shown in galleries and museums worldwide as well as in numerous private collections.  To learn more about the Southern California Handweavers' Guild, check out their website at www.schg.org.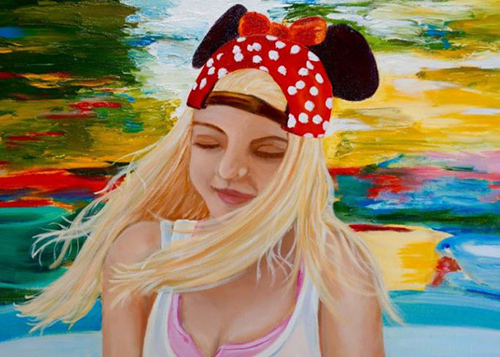 "The Feminine Figure: Strength, Resilience and Insights"
– Exhibit opened October 10
Canyon Country Library
18601 Soledad Canyon Road, Santa Clarita, CA 91351
A self taught multi-media artist and educator recently relocated to Boulder, CO from Santa Clarita, Kim Adam has been using her artistic talents for the past 25 years as a therapeutic tool. Her art and its process assist her in staying grounded and working through the issues life can spring on us from time to time. During the last ten years, Kim has been sharing her gift with others, either educating them on how they too can use art therapeutically, or sharing her message with others through her works of art. Her art has been displayed at exhibits in the greater Los Angeles area and purchased by collectors on both the east and west coast. Kim believes that art allows us to discover truths about ourselves and is capable of transforming an individual and a community.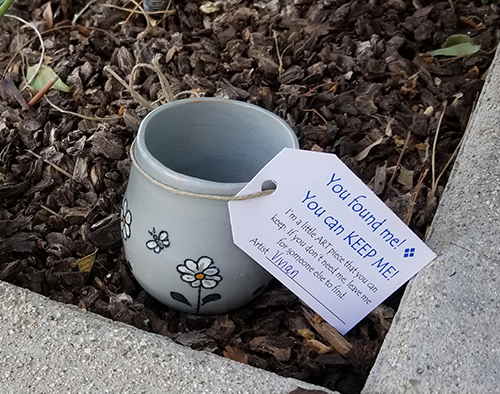 Abandoned Art SCV Project
Hosted by CASI Ceramics
– Started October 15

The Abandoned Art Project Santa Clarita Valley is composed of students and members from CASI Ceramics sharing what they love to do by leaving ceramics in random locations across our city for others to find and enjoy. Clues to find the hidden pieces of art were posted on the Abandoned Art SCV Facebook page. "Finders" were asked to post where they found the art piece and a picture of themselves and/or their new piece of art on the same page. Hiding places might be in plain site, on a bench in a park, or a little more hidden, such as inside a retailer. Ten to twelve artists participated and they averaged hiding two pieces of art per day. Abandoned Art SCV  hid art around town from October 15 through November 16th. On November 17th, CASI had an exhibition of works for sale in their gallery.
Check out Abandoned Art SCV: https://www.facebook.com/groups/AbandonedArtSCV/
And check out CASI Ceramics at: http://www.casiceramics.com/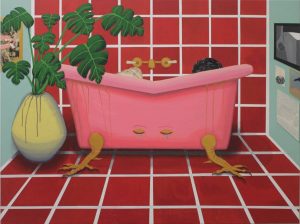 "Dream Seeds"
– Exhibit opened October 15

Valencia Public Library
23743 Valencia Boulevard, Santa Clarita, CA 91355
Dream Seeds is a series of work that artist Audrey Jackson created over the past two years. The work is an expression of her own struggles, passions and dreams. Each painting acts as a seed that is planted, slowly growing and blossoming into her dreams and goals. Audrey's paintings cryptically expose the dark and light of her experiences as well as providing therapy through artistic expression. Audrey started making art as a young child and since then, has known that art would be an instrumental part of her life.  Now in her 20s, Audrey attends CalArts and is pursuing an art career.  Audrey's talents have already been commissioned by a national wine company, various musicians and multiple local pop-up art and gallery shows.
SPOOKTACULAR Arts & Events Pumpkin Competition
– October 18 – 31
The Santa Clarita Arts & Events team hosted their annual pumpkin art competition. Winner takes all, so everyone voted for ONE winner online from October 18th until midnight on the 31st. When ARTober ended, one winner was announced and they won a $25 Amazon Gift Card. We expect the competition for 2019 to be bigger and better.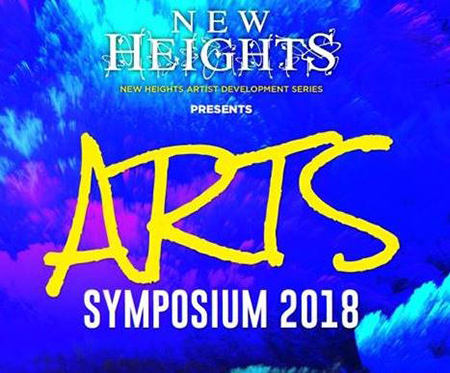 New Heights Arts Symposium
– October 20
The Centre
20880 Centre Pointe Parkway, Santa Clarita, CA 91350
This free Arts Symposium was part of the annual New Heights Artist Development Series. Artists of all skill levels and experiences attended the day-long educational conference to advance their skills and career. Opening remarks and keynote addresses began at 9 a.m., with a free continental breakfast beginning at 8 a.m. The Symposium presented three focused panel groups, for a total of nine sessions, on an array of topics from the cinematic, musical and visual arts.
8am – 1:30pm / Registration and Check-in
8am – 9am / Breakfast
9am – 9:30am / Opening Remarks
9:45am – 11:15am / "Getting Social: The Artist and Social Media" – Visual Arts Session with Mitra Cline
Social Media for Artists will feature a discussion about the use of Social Media for marketing your art and communicating your message. This panel of experts will provide artists with some key items, tools and concepts to consider when branching out into the Social Media World. Effective use of Twitter, Facebook, Instagram, and other tools will be discussed.
– MITRA CLINE is an interdisciplinary artist and assistant director at the Wildling Museum of Art and Nature. She is an award-winning visual designer with an M.A. from the Pacifica Graduate Institute and a B.F.A. from the Kansas City Art Institute.
9:45am – 11:15am / "You Have Made a Film: Now What?" – Film Session with Liz Manashil & Gerry Maravilla
An esteemed panel shares their experience selling their independent films. Panelists will discuss the traditional film marketplace, emerging film markets, VOD/online distribution, film festival submissions, and preparing and packaging a film for the marketplace. The panel will also include innovative film sales ideas and tips on leveraging films for future work, specifically independent short films. Join us to make sure you're making the most of all the hard work you put into producing and completing your latest independent film.
– LIZ MANASHIL earned her M.F.A. from USC's School of Cinematic Arts and is a film critic for the PBS/Hulu series "Just Seen It." She also worked with distribution guru Peter Broderick, and is the Manager of Sundance Institute's Creative Distribution Initiative.
– GERRY MARAVILLA is Head of Crowdfunding for Seed & Spark, a streaming service for indie film and TV. His short film "Cross" has screened at many festivals nationwide including the Newport Beach Film Festival, San Antonio Film Festival and Los Angeles Asian Pacific Film Festival.
9:45am – 11:15am / "How to Get Booked: Booking Agents 101" – Music Session with Steve and Polly Hoganson
This panel discussion will provide valuable insight into the world of the booking agent and the promoter. Panelists will share with you what they do, how they make decisions, what they are looking for when booking acts, and many other important components of creative a show.
– STEVE AND POLLY HOGANSON owned and operated Zoey's Cafe in downtown Ventura for eight years. During that time they booked hundreds of bands and performers ranging from up-and-coming singer-songwriters, international acts, and Grammy-winning musicians.
1:30pm – 3:00pm / "Pricing Your Art" – Visual Art Session with Peter Mays, Bob Privitt and Rebecca Edwards
Pricing art for sale is about what's happening on the outside, in the real world where things are bought and sold for money, and where market forces dictate how much those things are worth. The better you understand how the art market works and where your art fits into the big picture, the better prepared you are to price and sell your art.
– PETER MAYS is the Executive Director of the Los Angeles Art Association (LAAA) and its premiere La Cienega exhibition space Gallery 825. Peter has implemented cultural exchanges with Korea, Germany and China, initiated collaborative installations with Tim Hawkinson and Lita Albuquerque and created LAAA's public art program. Peter has curated exhibitions throughout Southern California.
– BOB PRIVITT received his M.F.A. from the University of Indiana and an M.A. at the University of Tulsa. Mr. Privitt is a professor Emeritus at Pepperdine University. From 1979 to 2002. Bob was a Professor of Fine Arts at Pepperdine University, and the University Galleries Director from 1981-1991. Bob has numerous solo exhibitions, as well as group shows both nationally and internationally.
– REBECCA EDWARDS is a Professor of Art at College of the Canyons where she mixes her love of art with her love of teaching. She is a practicing, visual artist who received her B.F.A. from the San Francisco Art Institute. She received her MFA from Cal State Los Angeles.
1:30pm – 3:00pm / "Top Marketing Tips for Indie Filmmakers" – Film Session with Sheri Candler and Eric Mickelson
This panel will examine the important process of audience identification with emphasis on where to find an audience (both online and offline) and the key tools available to filmmakers to capture their audience's attention and compel them to watch their film. Panelists will discuss which promotional tactics work best and how to effectively utilize social media, advertising, publicity and crowdsourcing.
– SHERI CANDLER is currently the Social Media Editor for KCET Link Media Group. She has worked with The Film Collaborative, a film distribution and filmmaker education organization, and her articles on social media marketing for films have appeared in Indiewire, MovieMaker Magazine and Sundance Artists Services.
– ERIC MICKELSON is the Executive Vice President of Creative Advertising for CBS Films. He oversees all creative material for CBS film campaigns, ranging from trailers, TV spots and featurettes to radio, electronic press kits and print advertising.
1:30pm -3:00pm / "Music Supervisors: Their Role and What They Look For" – Music Session with Scot Peeples, Joann LeDesma and Hunter George
Music supervisors are the often unheralded architects of movie soundtracks, the skilled specialists who match music to moments in films and TV, and help build our favorite movie music track by track. Panelists will discuss tips on how to get your songs placed, as well as current industry trends.
– SCOT PEEPLES is a music supervisor for film, TV, and news media. After finishing an internship at Lyric House Publishing in Hollywood as Music Coordinator and Licensing Specialist, he began working freelance under the moniker One T Music Supervision.
– JOANN LEDESMA is well versed in artist management, music production, and publishing. LeDesma has worked with numerous artists like Jackson Browne, Joe Walsh, Carlos Santana, Kenny Loggins, MANA, KISS, Tom Petty, David Crosby, Graham Nash, Taking Back Sunday, Devil Wears Prada, Aggrolites, and many others.
– HUNTER GEORGE serves as the Executive Manager to the Guild of Music Supervisors and works as a liaison to many of the top music supervisors, composers, and executives in film, TV, video games, and advertisements. His latest credit includes music coordination on the Bruckheimer TV series "Training Day" for Warner Brothers Television.
3:15pm -4:15pm / "Taxes and the Artist" – Visual, Film and Music Session with Scott Rubenstein
4:30pm – 6:00pm / "Touring Ins and Outs" – Music Session with Bill Bergman, Katy Moffatt and Phil Hyland
Ready to hit the road and take your music across your region, country, or even overseas? To plan a tour, you'll need to save some money, consider transportation, come up with a route, and book your venues. Once your tour is booked, don't forget to promote it. Organizing a tour takes some work, but when you're rocking out to full houses in city after city, you'll be glad you took the time to plan it well. Our panel will provide you with sound advice about touring, since they have participated in and organized hundreds of tours.
– BILL BERGMAN is a founding member of Jack Mack and the Heart Attack Horns. He has toured the nation and played with such great's as Bonnie Raitt, Kansas, Dan Fogerty, Glenn Frey, Neil Diamond, and many others.
– KATY MOFFATT is an internationally acclaimed singer-songwriter. With 19 albums, appearances in four major motion pictures, and consistent live touring, her career has spanned 40 years, garnering numerous rave reviews (Rolling Stone, Mojo), nominations and awards (Academy of Country Music).
– PHIL HYLAND co-founded the band, Girlfriend. The band saw its share of success including a residency in New York at the legendary Cafe Sin-é, where Jeff Buckley recorded his "Live at Sin-é," EP. Broadway producer, James Simon signed Girlfriend to an independent recording deal and the band performed at the music festival "A Day in the Garden / Woodstock 1998."
4:30pm – 6:00pm / "Creating a Compelling Portfolio" – Visual Art Session with Shannon Doronio
An art portfolio is an artist's resume. A portfolio allows you to present your work when applying for classes and jobs or when approaching a gallery for representation. You can also make a portfolio to show the full extent of your fine art work at an exhibition. Knowing how to create an art portfolio shows that you put time, thought and effort into the way your work was being presented.
– SHANNON DORONIO is an Assistant Professor in the Graphic and Multimedia Design program at College of The Canyons, as well as a partner at Parallel-Play, where she designs communication solutions for arts and education based non-profit organizations like 826National, InnerCity Arts, Koreatown Youth and Community Center and 826LA.
She received her BFA from Otis College of Art and Design and was a Chronicle Books Design Fellow.
4:30pm – 6:00pm / "Getting Your Film into a Festival" – Film Session with David Holechek, Jen Prince and Cheryl Bedford
What is the secret sauce that gets some films accepted while others rejected? Is it the quality of the screenplay, subject matter, color correction, sound mixing or all of these? What is the most important things to remember when trying to get your film accepted to any film festival? This panel of experts will provide you with valuable insights into these questions and more!
– DAVID HOLECHEK, co-founder of Duality Filmworks, has either produced, directed or edited six feature-length releases and over a dozen short films, including "A Finger, Two Dots Then Me," which screened at over 80 film festivals, winning 35 awards including the CINE Master's Series Award and the Heartland Film Festival's Crystal Heart Award.
– JEN PRINCE is the producer of films "Quality Problems," and "And Then There was Eve," which won a Jury Award at the 2017 Los Angeles Film Festival and micro budget feature film "Eve of Understanding." Jen's films have been accepted to over 20 festivals and have won "Best Feature" at AFI Dallas, Beverly Hills HD Film Festival and the Female Eye Film Festival.
– CHERYL BEDFORD holds a BFA from NYU's Tisch School of the Arts and a MFA from A.F.I. Her feature films include "Traci Townsend," "The Mannsfield 12," and the "viral" hit documentary, "Dark Girls" and "Rise Again." She also serves a juror for many film festivals, such as the Pan African Film Festival and the Holly Shorts Film Festival.