Aixa Renta-DeLuca Fine Art @ DeLuca Studio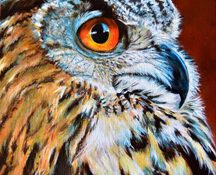 Business Name:
Aixa Renta-DeLuca Fine Art @ DeLuca Studio
Aixa Renta-DeLuca is an accomplished artist who accepts commissions for pet and wildlife portraits.
Aixa began her art career in Florida in 1994 as a graphic designer preparing business cards and ads for the yellow pages.  That evolved into more extensive graphic design work and eventually a position as Art Director for a large advertising agency with offices in Florida, New York, and Los Angeles.  She is also an accomplished photographer and photojournalist who has been published in magazines and newspapers, including the Orlando Sentinel, Pet Times Magazine, The Horse Magazine, and Bird Times.  Her photography has also been displayed at the Orlando Museum of Art and the Manor Gallery in Orlando.
Since retiring form the work force, Aixa has concentrated on painting, experimenting with different mediums and techniques.  Her expressionistic/abstract series is rich in texture with suggestive strokes of the palette knives, acrylic paints and mediums.  The intricate and dynamic style floods the senses with vibrant colors that she layers and swirls in emotive creations.  Her expressionistic series paintings have been on exhibit at the Museum of Art of Ventura County, the Buenaventura Art Association Gallery, the Community Health Hospital in Ventura as well as the Ventura County Fair, where most of the paintings won awards. 
Aixa's recent works include pet portraits and wildlife painted with acrylics and oils on canvas.  She is currently a member of the Santa Clarita Artists' Association and the Santa Paula Art Association.