Mr M's Woodshop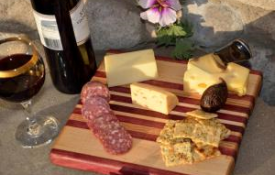 Business Name:
Mr M's Woodshop
Henry Mowry of Mr. M's Woodshop has been a woodworker his whole life, after learning to use power tools – safely! – at the University of Missouri Theatre scene shop. He moved to Newhall in 1978 and since then has built many things for his own home, from picnic tables to bookshelves and end tables to kitchen tools.
Life changed for Mr. M in 2013, when his wife and daughter-in-law created Mrs. M's Handmade and began selling small batch skin care products at local boutiques and craft fairs. Since he was drafted to help carry items to the fairs, he found he had no choice but to participate. He decided to contribute cutting boards, cheese boards and wooden accessories that are now his obsession. Their first sales event was the Santa Clarita Street Fair on March 22, 2014, and on that day he sold his first handcrafted cheese board.
Mr. M has since discovered that most of the cutting boards sold at retail these days are made to fail. He's used his knowledge of woodcraft to create cutting boards and serving pieces that are both unique and functional. His goal is to make items that are useful and durable, but he also believes they must be beautiful.