Six-Five Studios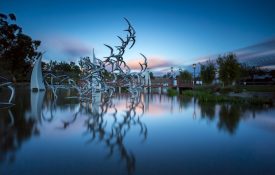 Business Name:
Six-Five Studios
Six-Five Studios has three main areas of focus: Fine Art Landscape, Portraiture, and Sports.
While these three genres don't sound like they go together, they all give John Duncan, the photographer at Six-Five Studios, the ability to capture beauty and provide people the ability to share it with others. Whether it's the beauty of our natural environment all around us, the beauty of the human person, or the beauty of competition, all three are his passion!
He travels across this amazing country that we live in to uncover some of its most beautiful scenery. Living on the road during these trips allows him to be in the right position at the right time to capture a moment that cannot be repeated. Back at the studio, the photograph is developed, printed and then mounted to a special handmade wood frame and then sealed with a crystal clear acrylic coating. This coating brings out the colors in the photograph, as well as seals and protects it from light and other harmful things. The result is a beautiful piece of art that is truly one-of a kind.
John also loves bringing out the beauty of people and capturing that beauty when they finally let themselves be themselves in front of the camera. This creates beautiful personal and family portraits using photography techniques that produce natural looking, timeless photographs. His customers love the personal care taken in customizing each shoot, tailored to each client, photographing them the way they want to be photographed.
The same care is taken with sports photography. Our bodies were made for motion, and that's why John loves photographing them so much! From the in-game photographs to the all-important individual and team portrait, he covers our sports teams with un-paralleled service.