Cultivating Creative Minds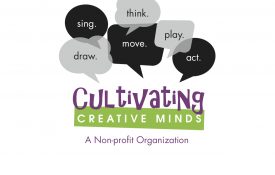 Business Name:
Cultivating Creative Minds
Cultivating Creative Minds is a non-profit organization based in the Santa Clarita Valley with the mission to promote creative programs for young people, partner with schools to organize and execute enrichment programs that promote creative thinking, and to help schools find and sustain funding for creative programs.
We provide after-school Band, Chorus, Strings, Keyboarding and Guitar classes for elementary school students in the Santa Clarita Valley. Students rehearse one hour a week throughout the school year with local teaching artists. Students have many opportunities to perform throughout the year and every student in the district gathers together at the end of the year for a Spring Concert Finale. In addition, we launched an annual Honor Band performance in the Sulphur Springs School District which brings together students from our elementary schools with band students from Sierra Vista Jr. High and the Band students from Canyon High School.
In 2009, along with Pinetree School Principal, Jane D'Anna, we developed an arts enrichment rotation for students during the regular school day. This is a once-a-week program where students attend a Visual Arts, General Music, Dance, or Theater class while their regular school teacher participates in a grade level planning session. This experimental multidiscipline approach to arts education provides students with opportunities to express themselves in different ways throughout the school year. We offer variations of this program at many different schools including Golden Oak School, Fair Oaks Ranch School, Sulphur Springs School, Pinetree School, Mitchell School, Mint Canyon School, Leona Cox School, Canyon Springs School, Valley View School, Meadowlark.
We look forward to partnering with schools to develop new programs that provide opportunities for our students to utilize their creative thinking skills.