February 22, 2018, 7-9 p.m.
The MAIN
24266 Main St., Santa Clarita, CA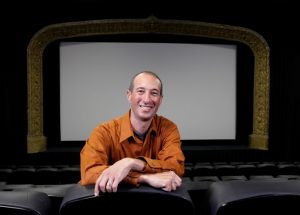 Greg Laemmle is the President of Laemmle Theatres, a family-run business that has been exhibiting movies in Los Angeles since 1938. Greg is the third generation to head the company, following in line behind his grandfather Max Laemmle, who started the company with his brother Kurt when they took over the operation of two theatres in the Highland Park neighborhood of Los Angeles.  Greg took the reins from his father Bob who retired in 2004.  Known primarily for its support of foreign-language, independent, and documentary films, Laemmle Theatres currently programs 37 screens at eight locations.  The company plans to add five screens at a ninth location in Glendale in 2018 and is set to break ground in 2019 on a tenth location with seven screens in the Old Town Newhall section of the City of Santa Clarita.