Discussion and Demonstration for Beginners and Advanced Artists
September 20, 7-9 p.m.
The Centre
20880 Centre Pointe Parkway, Santa Clarita, CA
The public is invited to the free New Heights Program "Watercolor: Discussion and Demonstration."  The program will include a brief introduction to watercolor for beginners along with tips and tricks for more advanced artists. Louisa McHugh will discuss her own creative process, work flow, how to get started in watercolor, and current trends in this medium.
About the Artist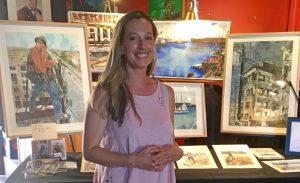 Award winning watercolor artist and the National Watercolor Society Gallery manager, Louisa McHugh, graduated from Columbia College with a degree in cinematography. After a short and stressful stint in the film business, she realized that she needed to go back to her roots as a painter.  She worked as an Administrator at UCLA with the hopes of eventually getting her Master of Fine Arts Degree. When she met with the Director of the Painting Department, she was turned away and advised to go further develop herself as an artist. She studied watercolor under Debbie McDonald at Otis College of Art and Design for a quarter, and that's when her work suddenly began to blossom.
Louisa currently teaches at the Palos Verdes Art Center and at Destination Art in Torrance and will soon be offering classes at the National Watercolor Society Gallery in San Pedro, California. "Watercolor has always been my passion and it is my mission to bring to it the same level of prestige that other mediums are esteemed with. My work is often figurative, with several layers of transparent washes that roll over each other, causing the subject to drift in and out of focus. I take inspiration from the ordinary and find beauty in unconventional themes."   – Louisa McHugh
New Heights is proudly presented by The City of Santa Clarita's City Council and Arts Commission. This series is designed to assist artists, performers and arts organization representatives in expanding their knowledge and learning valuable tools to increase their ability to be successful.  A complete listing of the New Heights' discussions and lectures is available at SantaClaritaArts.com.