The MAIN Presents Stage On Screen 'SOS' THEATRE FEST
An 8-week online theatre festival – August 25, 2020 through October 16, 2020!
All shows are FREE!
Featuring modern plays within the theme of Social Media that include radio plays, staged readings, original one-act comedies, and more!
The MAIN will introduce a new show and cast, weekly!
Kick-off the week with the 'MAINcast Interview' on Tuesdays at 7:00 p.m.
Calliope Weisman and Stephan Nieman sit and chat with directors, actors and production crew about the featured play!
On Fridays, "It's Showtime"! The production goes LIVE on Zoom, at 7:00 p.m.! Followed by an exclusive 'Audience Talkback' where the audience is encouraged to participate and interact with the cast and crew!
Zoom information (e.g., Meeting ID and Password) to access the LIVE Friday Performances will be posted day of the show on Facebook!
* Virtual doors open at 6:30 p.m. on Zoom
* Space is limited, please log-in early!
---
Malvolio, A Sportful Malice
Tuesday, August 25, 7pm – MAINcast Interviews
Friday, August 28, 7pm – LIVE Zoom Event
Presented by Scenic City Shakespeare
Adapted and Directed by Emma Collins
SYNOPSIS: Malvolio, the puritanical steward of The Countess Olivia, never lets anyone else have fun. Olivia's drunken cousin Toby and the maid Maria set Malvolio up to look like an idiot, joined by a fool, a knight, a chef, and a lady in disguise. "Malvolio – A Sportful Malice" is a new adaptation by Scenic City Shakespeare that spotlights the legendary yellow stocking-clad prank from Shakespeare's "Twelfth Night."
---
The Tao of Farfalla
Tuesday, September 1, 7pm – MAINcast Interviews
Friday, September 4, 7pm – LIVE Zoom Event 
SYNOPSIS: Tao of Farfalla takes us into a world like ours but not. A world that has come into a new beginning where humans take a back seat. Amidst crisis and change do we loosen our grip on normalcy? Is it easy to rid our minds of any preconceived ideas on how the apocalypse will unfold? And even if we embrace our new normal, How long before we fight to change our reality? In "TAO", we meet Sabrina, a celebrity designer and social media guru…and her husband Hubert. A successful physician and immunologist, working for 'The National Institute of Allergy and Infectious Diseases for the United States'. When both of their worlds come crashing down around them, they are left with only each other. No friends, no family… to live out everyday, until death do they part. You can imagine how exciting it is to have some very unexpected guests arrive. Like watching the snow settle inside of a snow globe, you can't help but wait for the next opportunity to shake things up.
---
Like Dreaming, Backwards
Tuesday, September 8, 7pm – MAINcast Interviews
Friday, September 11, 7pm – LIVE Zoom Event
Written By: Kellie Powell
Directed By: Thomas Carbone
Asst. Directed By: Chelsea Jones
SYNOPSIS: Nell, suffering from depressive psychosis, is encouraged by hallucinatory "messengers" to commit suicide. These messengers take the forms of a childhood friend, a former lover, and her dead father. The play also illustrates the grief experienced by those Nell leaves behind, including her best friend and her mother.
---
Left to Our Own Devices

Tuesday, September 15, 7pm – MAINcast Interviews
Friday, September 18, 7pm – LIVE Zoom Event
Written By: Flip Kobler, Cindy Marcus & Finn Kobler
Directed By: Cindy Marcus
Presented By: Showdown Stage Company
Synopsis: Comprised of individual scenes that range in tone from silly to sweet and hysterical to heartwarming, "Devices" is an online slice of life during these weird times.
---
Pants Optional; Or What Lies Beneath

Tuesday, September 22, 7pm – MAINcast Interviews
Friday, September 25, 7pm – LIVE Zoom Event
Written By: Donna Scarantino
Directed By: Marc Mantel
Presented By: Theatre Americana
Synopsis: Beyond DAfeet, there is hope!
(Yes, DAfeet is spelled like this because the name of the fake radio show is "The Agony of DAfeet" – and the "fake sponsors" and the jingles are Dr. Arches Insoles.)
An original comedy about a group of eccentric golden-oldies who need to figure out a way to turn their radio show into a virtual live performance. Is there enough stage makeup in the world?
---
Prometheus Online

Tuesday, September 29, 7pm – MAINcast Interviews
Friday, October 2, 7pm – LIVE Zoom Event
Written By: Micah Anthony & Canaan Smith
Directed By: George Nikitas
Synopsis: Two queer college students, quarantined in their homes, create a Twitter account for a school project. When the account begins acting strangely, they are forced to re-evaluate their relationship with each other, and with the online platforms they rely on.
---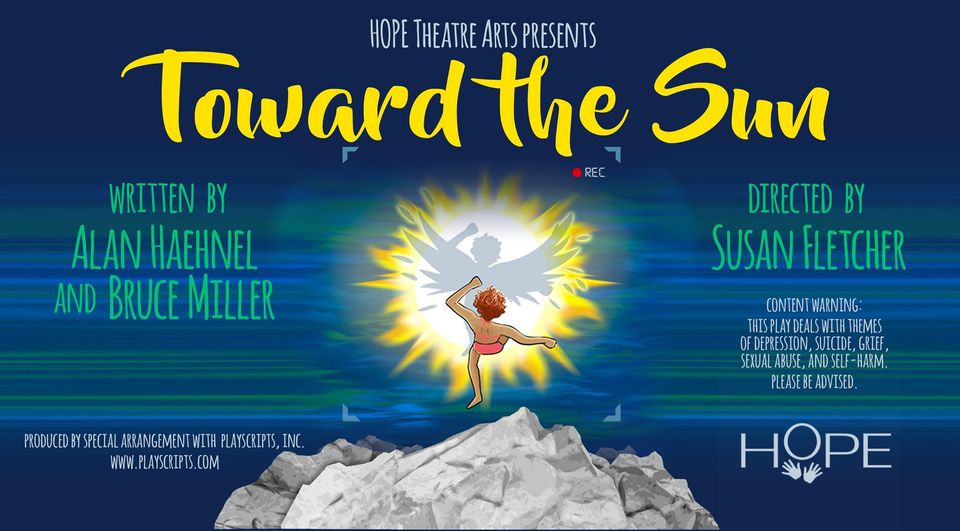 Toward the Sun

Tuesday, October 6, 7pm – MAINcast Interviews
Friday, October 9, 7pm – LIVE Zoom Event
Written By: Alan Haehnel & Bruce Miller
Directed By: Susan Fletcher
Presented By: HOPE Theatre Arts
Synopsis: When high school daredevil Courtney vows to dive off the highest boulder in Mount Granite Quarry, she sets off a chain of events that force her friends to question their own relationships to privacy, technology, and secrecy. When everyone has a camera and any act of desperation or plea for attention can be uploaded to the web, who pays the price? This play, made up almost entirely of two-person scenes, grapples with the realities of living a life on the edge while everyone watches.
---
Connections & Confrontation

Tuesday, October 13, 7pm – MAINcast Interviews
Friday, October 16, 7pm – LIVE Zoom Event
A Showcase of six short comedies written by Ken Preuss with relevant themes, set in today's virtual world.
Presented By: Bridgeway Theatre Company