Ceramic Artist Studio, Inc., CASI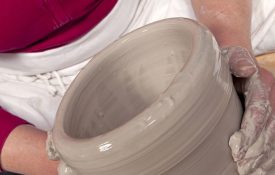 Business Name:
Ceramic Artist Studio, Inc., CASI
Ceramic Artist Studio, Inc. (CASI for short), is an amazing studio, focused on sharing the true art of ceramics with the wonderful people in Santa Clarita and the surrounding areas.  They are located in the hip Old Town Newhall Arts and Entertainment District.  CASI is a teaching facility that has the capacity to host 100 students and artists per session.
Classes and Artist Memberships allow new and seasoned potters to create, explore and develop their talents. Exceptional staff is informative and attentive to all proficiency levels. High quality, new equipment such as 9 potter's wheels, slab roller, extruder, pug mill, heavy duty workbenches, artist shelving and lockers, spray station, Geil gas and electric kilns, plus a wide variety of top notch stoneware and porcelain clays and glazes are available.
CASI offers over 2,300 square feet of work space that is brightly lit, has air conditioning and heating, stereo system, and plenty of communal and personal shelf space. There is always a staff member on site to answer questions. Weekly kiln firings assure quick turnaround time for bisque and glazed pieces. They provide high fire (cone 10) glaze firings, ensuring pottery and ceramic art is as hard and durable as possible.  Items created are dishwasher, oven, microwave and food safe.
CASI also has gallery space for ceramic sales and holiday boutiques. Clay and Tool Kits are available for purchase from the Gallery Office.