Kalakeke Pacific Island Dance Company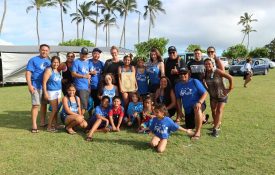 Business Name:
Kalakeke Pacific Island Dance Company
Kalakeke Pacific Island Dance Company was founded by the Farrell family in December 2007.  They are dedicated to sharing the culture and dance of the Pacific Islands with all in a family "Ohana/Feti'i" environment that exudes love, caring and fellowship. Kalakeke PIDC has been serving the Santa Clarita Valley for almost nine years as a Polynesian dance school and entertainment company. They dedicate their time to sharing the Polynesian culture by teaching and performing for the public, as well as offering authentic Polynesian entertainment. Kalakeke organizes and hosts two major events: Te Mana Ori Tahitian Solo Competition and the Santa Clarita Pacific Islander Festival. They perform at regular community events that are local in Santa Clarita and in Southern California.