Santa Clarita Artists' Association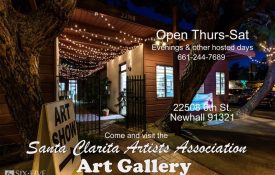 Business Name:
Santa Clarita Artists' Association
The Santa Clarita Artists Association [non-profit 501(c)(3) was founded in 1989 by a group of local artists who had a desire to share their expertise, knowledge, and enthusiasm for art. The Association has a broad range of talent from professional to novice. Members provide the ability to encourage, assist, develop, and exchange ideas and information in building on artistic skills. 
The Association has a gallery in Old Town Newhall for members to display works of art.  Shows run approximately four weeks and feature work from about 20 artists, with each artist displaying two pieces on average.  There is also a nice shared courtyard and additional space in front of the building. These areas can be utilized during receptions, for demo artists, and for showing additional work while hosting.