Artistic Intervention by Bruce David McFarland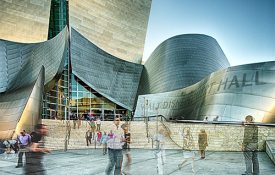 Business Name:
Artistic Intervention by Bruce David McFarland
Bruce David McFarland of Artistic Intervention captures images of the world around him and uses photography to create new images that capture the energy and the beauty of that world. As an artist, he allows each image to move and guide him toward a finished image that tells a story. He looks for engaging perspectives, rich colors, intriguing textures, and strong geometry. He is inspired by stark contrasts and subtle differences. In some compositions, he features the relationship between the static space and the activity and energy of the people in the space.
In some cases, the image is so strong, he doesn't dare alter it. In other cases, the image tells him there's something else within – a different story. Inspired by impressionist artists like Monet, Renoir, Pissarro and Degas, he started creating photo-based "oil" paintings several years ago and printed them on canvas to reinforce the painting style. It then took him several more years to perfect a technique to create digital watercolor paintings. This technique resulted in an award for a transformed image of the Ventura Mission.
More recently, Bruce developed a technique to illustrate the relationship between the static space and the people in the space. He calls it MULTIPLE X. With this technique, spaces came to life with the stories of the people in that space over time. An example is his Brooklyn Bridge composition. The Brooklyn Bridge was built to move people from Brooklyn to Manhattan and vice versa. His composition allows us to see people on the move by bike and on foot. The bridge is no longer just an icon of New York. It has energy and purpose to provide the path between these famous boroughs.
The computer provides Bruce with the tools and freedom to create the scene from his imagination. Just like the traditional painter, his process takes many steps and days or weeks to complete. Just like the traditional printmaker, if he is printing on rag paper or canvas, he prints numerous test proofs before he finalizes his vision. He uses archival materials, including inks so his images will provide enjoyment for many years. Images printed on aluminum go through a similar process, printing several test proofs before sending the image to the aluminum print maker.