Craig Beck – Santa Clarita Guitar & Bass Studio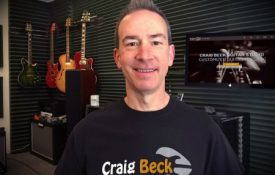 Business Name:
Craig Beck – Santa Clarita Guitar & Bass Studio
Craig Beck loves giving guitar lessons and teaching music to students from all over Santa Clarita and Southern California. He enjoys sharing a passion for music with his students. Giving bass and guitar lessons is what he does for a living, but he doesn't see it as a job. He sees it as a privilege to guide his students on their musical journey every day. This is where he wants to be, in his guitar instruction studio, playing and teaching music with his students.
His approach as a guitar instructor starts with a relaxed environment where his students feel free to express themselves. Guitar lessons are structured to maximize time together, but are informal in nature. He believes that people learn best when they are having fun. For this reason, he tailors each student's guitar lesson to suit their own skill level, style of learning and preferred music style, whether the goal is to play songs around the campfire or light up the fretboard as a frenetic shredmaster. As a guitar teacher of 28 years, he routinely teaches every type of student all styles of music, including classic rock, blues, jazz, pop, country, extreme metal and even cartoon soundtracks. He believes that learning to play your favorite songs is a great way to learn and to stay motivated. After all, the goal is to learn to play guitar and hopefully have fun at the same time!
Craig's mission is to give students the tools needed to achieve their musical goals, whether they be modest or extremely ambitious, or somewhere in between. Whether it's reading music, music theory, complex scales, chord progressions, or a student's favorite song, his approach is to help students build a solid foundation in their guitar technique and musicianship. By laying a solid foundation, students develop the tools for continued improvement and musical growth.
Craig approaches guitar instruction in a way that encourages rapid growth and an ability to exceed one's own expectations. His greatest reward is seeing the smiles that spread across his student's faces when they accomplish what originally seemed insurmountable to them. Seeing their eyes light up as they exceed their musical goals and expectations is what it's all about for him. It's why he does what he does. Teaching guitar is his passion.