VIBE Performing Arts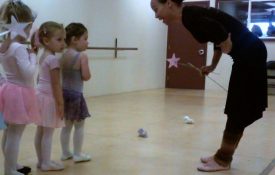 Business Name:
VIBE Performing Arts
Andrea Vibe founded Vibe Vocal Studios in 1990. Originally a vocal studio, Ms. Vibe's popularity as a singing instructor grew and additions were made in 1994 providing Vibe Vocal Studios with a facility in Newhall Square with additional studios and instructors. By 1997, the studios had grown significantly as more instructors were hired to include instrument, acting, and dance lessons. Vibe Vocal Studios then became Vibe Performing Arts. In June of 2000, VIBE moved to its current location in Valencia Plaza to include a multi-purpose theatre, a dance studio, and seven small studios. They have more than twenty instructors and three hundred weekly students. VIBE has succeeded by keeping a high caliber of teachers, many performance opportunities, and good consistent service. The arts can relieve stress and stimulate the mind, and VIBE provides this creative outlet for the whole family.