Laurie Beth Finkelstein Fine Art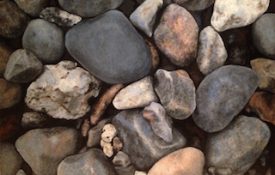 Business Name:
Laurie Beth Finkelstein Fine Art
Laurie Beth Finkelstein creates works of art inspired by several themes. Her geological series focuses on rocks, boulders, and pebbles in paintings ranging from realism to abstraction. Laurie works from photos she takes of geological wonders wherever she travels.
Cows are the subject of another series of paintings, in which happy California cows are painted in rich colors of green, purple, and black and white.
Laurie is currently working on a series of paintings in smaller sizes from photos taken on the drive between Santa Clarita and Carpenteria, and the drive between Santa Clarita and San Francisco. The paintings depict the surrounding landscapes, cloudscapes, and traffic on the roads.
All works are available for purchase. If you are in the Santa Clarita area, Laurie has her work displayed at the Santa Clarita Artists Association Gallery at 22508 6th Street in Old Town Newhall, 91321. Pulchella Wine Tasting room in Newhall on Main Street is currently showing twenty of Laurie's geological works, and Laurie rotates paintings at Egg Plantation in Newhall as well.